Hydraulic Rotary Actuators
Since 1969, Nuova Oleodinamica Bobo S.r.l. manufactures Hydraulic Rotary Actuators, designed by Hico Oleodinamica's founder, Engr. Enrico Leoncavallo. We offer highly customizable products crafted specifically for our clients' needs, and always in accord with current regulations. We can provide high precision reaming from 30mm to 150mm and adjustable degrees of rotation.
Our expert technicians will follow you every step of the way, bringing your project to life, satisfying your every need.
Actuators are provided with ATEX certification and CE Declaration of incorporation.
We offer replacements and standard/VITON seal kits. We also conduct revisions.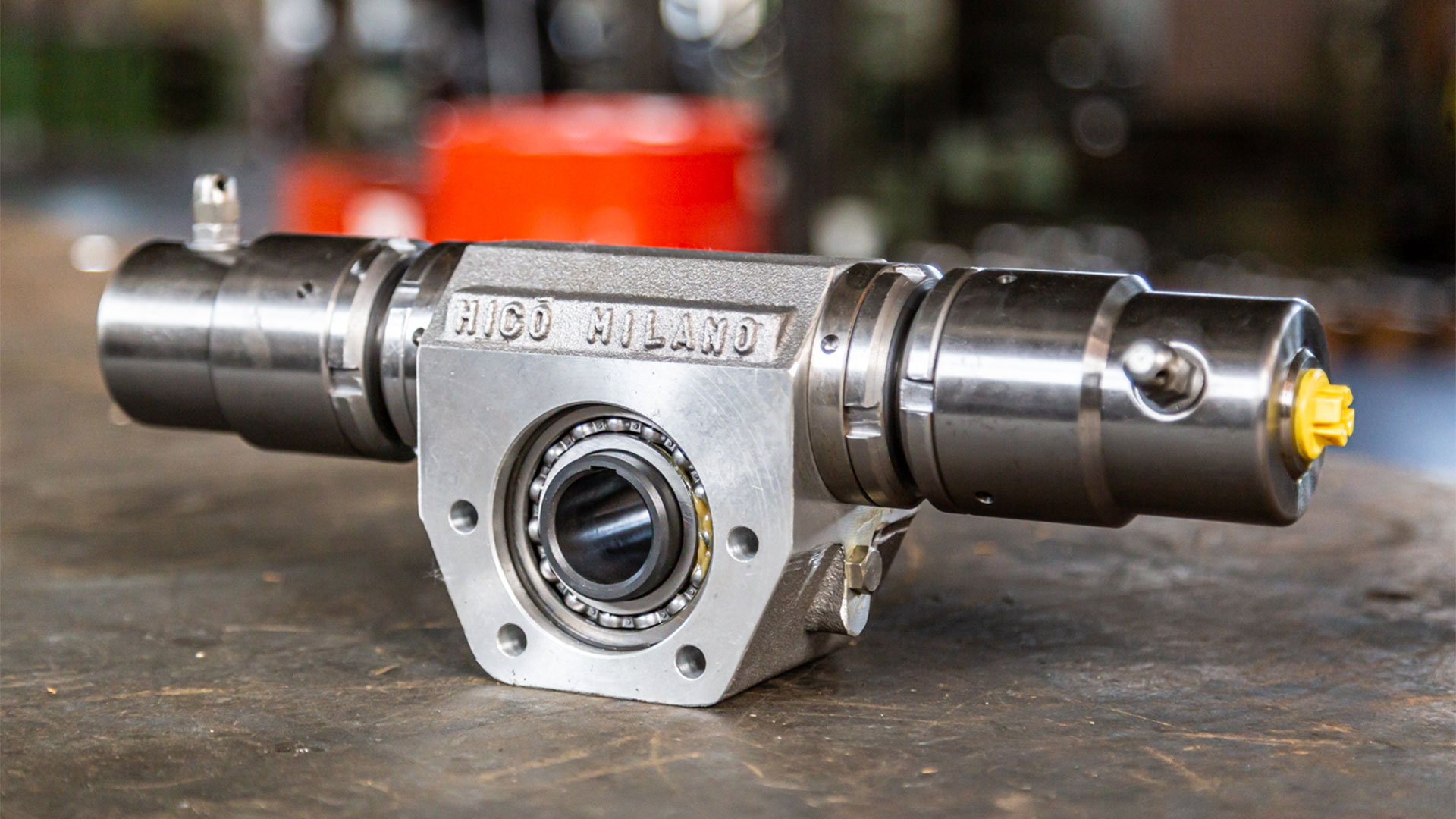 HIGH TORQUE HYDRAULIC ROTARY ACTUATORS FROM 0,14 TO 24,4 Kgm/Bar ANGLES OF ROTATION 90° – 180° – 360°
CONSTRUCTION DATA:
COUNTERBORE HOLE – UNI 96
CENTER DISTANCE ADJUSTMENT
GREASE LUBRICATION
ANGLES OF ROTATION 90 °-180°-360°
AVAILABLE ON REQUEST:
EXTENDED SHAFT
HIGH FATIGUE ANTI-ROTATION KEY FOR CONNECTOR ASSEMBLY
SPECIAL EXECUTIONS FOR AXIAL LOADING
ANGLES OF ROTATION – INTERMIDIATE TO OVER 360°
COUNTERBORED SCREW HOLES FOR ALLEN KEYS
EXECUTIONS (PARTIAL OR TOTAL) IN STAINLESS STEEL
WATERTIGHT EXECUTIONS FOR UNDERWATER APPLICATIONS
VITON SEALS
| PAGE | TYPE | SERIES | TORQUE Kg-m/Bar | HOLE UNI 96 | HOLE UNI 221 |
| --- | --- | --- | --- | --- | --- |
| 4 | ROT 30 | 150 | 0,14 | Ø 16 | Ø 16 |
| 5 | ROT 35 | 150 | 0,288 | Ø 30 | Ø 28 |
| 7 | ROT 40 | 100 | 0,549 | Ø 45 | Ø 42 |
| 21 | ROTAC 50 | 100/150 | 0,62 | – | – |
| 8 | ROT 50 | 150 | 0,858 | Ø 45 | Ø 42 |
| 22 | ROTAC 63 | 150 | 0,99 | – | – |
| 9 | ROT 63 | 150 | 1,18 | Ø 45 | Ø 42 |
| 11 | ROT 70 | 150 | 1,75 | Ø 50 | Ø 46 |
| 13 | ROT 80 | 150 | 2,48 | Ø 55 | Ø 52 |
| 15 | ROT 90 | 150 | 3,81 | Ø 65 | Ø 62 |
| 17 | ROT 100 | 150 | 6,12 | Ø 75 | Ø 82 |
PAGE
TYPE
SERIES
TORQUE
Kg-m/Bar
HOLE
UNI 96
HOLE
UNI 221
60
ROT 35 D
150
0,576
Ø 30
Ø 28
10
ROT 63 D
150
2,36
Ø 45
Ø 42
12
ROT 70 D
150
3,46
Ø 50
Ø 46
14
ROT 80 D
150
4,96
Ø 55
Ø 52
16
ROT 90 D
150
7,62
Ø 65
Ø 62
18
ROT 100 D
150
12,24
Ø 75
Ø 82
19
ROT 120 D
150
21,47
Ø 120
–
20
ROT 120 D
150
24,4
Ø 140
–
 
ROT 130 D
150
30,25
Ø 150
–
 
ROT 150 D
150
53
Ø 200
–